[vc_row][vc_column][vc_column_text]WITH AUTENTIEK, CAMPING CAN BE FUN OUT OF SEASON TOO!
Although have been to Belgium many times before, any nature areas have not been in my way until this time. Curious to see a piece of nature in a country of farmlands and urban areas at last, I was leaving for this trip full of expectations. It was mid-November and while most of people draw out their winter coats; grab a cup of hot wine and start dreaming about holidays on the beach, we headed towards late autumn Ardennen. The plan sounded perfect to me – slow travels and out of season camping with comfortable AuTENTiek equipment
We let go the morning rush hour and left Antwerpen late morning. In about ninety minutes we arrived to a cosy village of Durnal, which is located in the region of Namur, not far from Dinant. The camping site in Durnal was empty at this time of the year and it was not a big problem to find ourselves a nice spot with a view to set up a tent.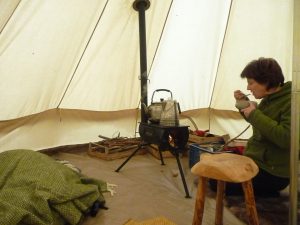 The AuTENTiek tents are huge and comfortable; up to six people can be accommodated in one. We put a stove inside and to make the interior warm. The mattresses used by AuTENTiek are thick and comfortable. Amazing fluffy reindeer skins are indeed a perfect alternative for a bed sheet. We also brought good sleeping bags and proper woollen blankets to make sure there is no way we are cold during night.
After the tent was ready, we set of for shopping to a close-by town of Dinant. It is a very pleasant place to be. It has a lovely setting within rocks on the banks of Maza river. We climbed up the Citadel to learn more about the turbulent history of the place and enjoy a fantastic view. With Adolf Sax being born here, Dinant is a town of saxophones, you can see them nearly everywhere. Another native of Dinant, a renaissance painter Joachim Petinir clearly reflexed the landscape of his home region into his paintings.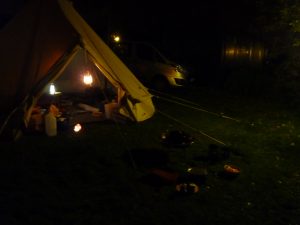 After sightseeing, we did shopping and headed back to the campsite to cook us a dinner. We bought venison meat and prepared a fantastic Irish stew in a pot in front of the tent. Cooking outside is such a pleasant activity. Despite the fact we used modern equipment, there was something truly prehistoric in the atmosphere. Amazing what fire can do with people:-) As the dish requires more than an hour to stew, we decided to give it a time and used a pleasant utility available at the campsite – a sauna:-) November is a perfect time for outdoor sauna indeed! After a good chat in the sauna the stew was ready, waiting for us. After that it was time to go to bed, the night was so warm even in November I didn't even take use of all the blankets we took with us.
Morning can be very relaxing with no hurry and being able to prepare a cup of coffee on a stove in the tent. After slow breakfast in the tent we packed our stuff and headed southwards to explore another part of the Ardennen.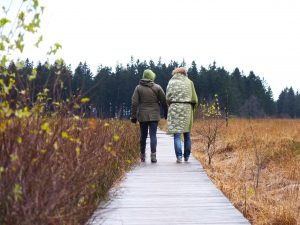 Our first stop was Rochefort. I was curious to explore this town as it is well known for its Trapist beer, but honestly speaking this place was a kind of disappointment. The brewery is not open for public. Next time we will pay visit to its famous caves instead. From Rochefort we continued eastwards to Malmedy to spend a night in a youth hostel there. Malmedy is not far from the wildest nature area in Belgium, the Hautes Fagnes / Hoge Venen. Hoge Venen is a part of the Eifel National Park and Belgium's highest point is located here. For sure, this was the most beautiful part of Belgium I have seen. Despite not being particularly high (less than 700m), the nature here is very specific and gave me a feeling of some of the mountain areas in my native Czech Republic, which are around double the height. We went for a walk in the peat bogs and enjoyed its specific atmo. Within one hour we stayed in a pub in Signal de Botrange, we could watch rain, snow and hailstones outside.
Three days in Belgium's nature assured me that outdoor activities can be a great relax and way to spend a free time even if it is out of season. With good equipment, the effects of bad weather can be minimised and the time spent outdoors can be very authentic, especially with AuTENTiek:-)
Eva[/vc_column_text][/vc_column][/vc_row]